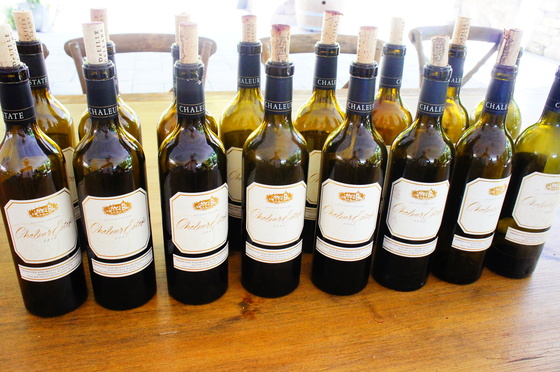 Charles Lill was a refugee from Europe who settled in Seattle and built a prosperous business selling insurance. When the German government paid out reparations, decades ago, for property confiscated by the Nazis, Lill invested the money in eastern Washington vineyards and a wine-making operation in Woodinville. The venture's cofounders (along with Lill's son, Greg) were Chris Upchurch, who'd been a wine buyer for Larry's Markets, and Jay Soloff, a sommelier and wine broker. Within a short time, it became one of the top boutique wineries in the state.
As we wrote last year, Chaleur Estate Blanc, one of the DeLille Cellars labels, is probably the most serious white wine produced in Washington. It's a Bordeaux-style blend of sémillon and sauvignon blanc that stands out from the field of perfectly drinkable Washington whites by its ability to age like a great work of art: with grace and dignity.
As for the reds, well, even better. A retrospective going back to 1992 showed wines that could pass for top estates in Bordeaux: elegant, complex blends that came on the market when single-variety "fruit bombs" were all the rage. Consumers weren't too sure what to make of them (pricey, understated) but restaurants understood the appeal. A wine list selling Chateau Lafite for $1,000 was happy to have a locally-produced Bordeaux blend like Chaleur Estate's Grand Ciel available for less than $500.
Then Charles Lill passed away, the 2008 recession hit, and DeLille Cellars stopped growing. It was stuck at that awkward, 12,000-case size, a boutique winery with a national reputation and a national market but unable to keep pace with demand because there was no more capital for vineyard acquisition or new equipment. The elephant in the room, Chateau Ste. Michelle, has a staff of business analysts to help allocate capital expenditures from deep-pocketed corporate parent. An umbrella company like Precept Brands has been successful by helping wineries (Columbia, Waterbrook, half a dozen others) on track. For De Lille, without Charles Lill, the question was how to shake off the stagnation, and the surviving founders thought perhaps the time had come to sell.
And then an interesting player turned up. Bacchus Capital Management. Co-founded by Sam Bronfman, grandson of the Russian Jewish immigrant who built the Seagram Company, Bacchus provides what it calls strategic capital and "expertise" to the wine industry. It has taken ownership positions in half a dozen prestigious wineries in California (Sbragia, Madrigal) and Oregon (Panther Creek), and now it stepped in, as an investor-partner, at DeLille.
Bacchus installed one of its managing directors, Tom Dugan, as general manager, and moved all its banking to Silicon Valley Bank in Napa. One immediate result was to release Lill, Upchurch, and Soloff from the personal guarantees they'd signed on the loan documents with Key Bank, which had tied up all their private assets. Even more important, the new infusion of capital allowed DeLille to buy grapes, vineyards, and equipment, and to increase its production (at the same level of quality) to over 30,000 cases. At last, there's enough wine in the pipeline to sell.
"We're going to stay terroir-driven," Upchurch assures the wine world. "Unique and competitive."