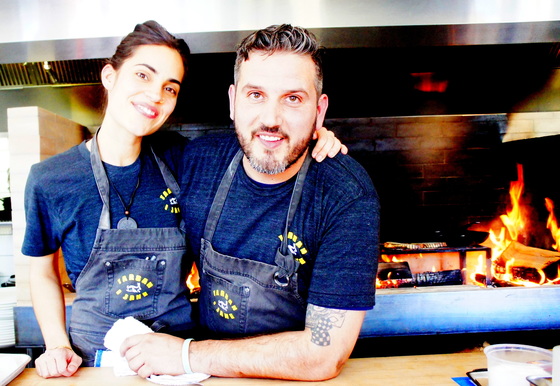 Two of the nicest people in Frelard are Perfecto Rocher and his partner, Alia Zaine, behind the counter at Tarsan i Jane. Rocher's grandfather was a shepherd and opponent of Franco who had to hide out in the hills between Barcelona and Valencia on the eastern coast of Spain; with a long beard and wild ways, they called him Tarzan. Even today, the people of Catalonia maintain a fierce independence and even a separate language. When he visited his grandfather's mountain hideout, Rocher was in charge of the ducks, the chickens, the rabbits. On a day off at the beach he encountered Alia, a traveling American; they moved together to Los Angeles, where they both found work in restaurants.
Familiar story: they wanted their own place, they wanted a smaller city, so they came to Washington (Valencia is the same size as Seattle), and found a ready-made space where Heong Soon Park had been running his third restaurant, Tray. One too many; he had his hands full with a young family and two other spots, Bacco and Chan. Now the space will be home to the wood-fired cuisine of the Spanish countryside and the Mediterranean coast.
"The dining experience at Tarsan I Jane is based on trust," it says on the menu. It's a challenge that goes in both directions. "We trust our diners to be open minded, adventurous, and inquisitive eaters. In return, guests can be confident our kitchen will provide a one-of-a-kind culinary sampling that draws on local producers, seasonal crops, and a deep passion for mixing modern techniques with traditional cuisine."
In practice, it means, well, yes, paella on Sundays. Dinner à la carte on Thursday, Friday and Saturday. Spanish wines, but local carrots, for example. A dish described on the menu as "pastenaga" promises "carrot in textures," garnished with crispy kale. A roasted carrot, a puréed carrot, and a garlicky carrot salad surmounted by a green sail. Admirable artistry, to be sure, but nothing in the flavors made me think, "Ah, now that's a carrot." I want to return, though, and sample the tomato-garlic toast with botifarra sausage, the arros caldos, the polp a la brasa. Five courses, chef decides. And I'll definitely come back for the paella.
You might have to abandon your ride in the car wash across the street because Leary Way is a tough cookie, but I think it's going to be worth the effort to find parking.
Tarsan i Jane, 4012 Leary Way NW, Seattle, 206-557-7059